DANCE FOR OUR ACTUAL TOMORROW
THE THEATERTANTEN SHARE IMPRESSIONS AND THOUGHTS ON THE EXPLORE DANCE POP UP FEATURE
Us "Theatertanten" are four theatre studies students who write reviews on theatre, film, dance, and anything else we experience. Our concern is to put comprehension in the background and instead concentrate on the various effects a production or performance has had on us. It's not our style to generate an artificial sense of objectivity while disregarding our own point of view. With this overtly subjective perspective we want to expand the concept of criticism and make art accessible to everyone. Our goal is to start a conversation and put different perspectives into dialogue with one another, instead of creating additional hurdles that might deter others from engaging in the conversation.
The Pop Up Feature of explore dance offers contemporary dance for everyone. Children and young people in particular are the target group of the performances, which is why they are considered as the intended audience already during the conception of a piece. The performances of the Pop Up Features spinnen and MOVE MORE MORPH IT! show that dance with and for children can take place not only in an educational setting or in a dance class, and that contemporary dance as art can be interesting and enjoyable for children. Dance for children does not only mean instruction, but also the first-hand embodied experience of art. The meaning and importance of dance for young audiences was discussed in various lectures and a panel discussion at the Pop Up Feature of explore dance.
DAY ONE. MUFFATWERK.
Julia.
Thursday, July 9, 2020. It's finally really HOT in Munich. The sun hits the asphalt of the Muffatwerk's inner courtyard, where several rectangular areas have been drawn in bright colours. I wonder, for a moment, whether the painting is part of an art installation – then I see the lettering from A1 to B5 and I remember: ah yes, social distancing regulations. Entrance to the first item on the programme, MOVE MORE MORPH IT!, happens successively in small groups and audience members are seated 1.5 metres apart. Inside, everyone wears masks; outside as well if the distance is too small. This unusual scenario is topic no. 1 in the courtyard small talk I engage in from my block A4 with other visitors in B5 and A3. The atmosphere is charged with gratitude and excitement about the fact that FINALLY there are once again art events that aren't exclusively happening online. In order to make this live moment possible, we're happy to leave the building during intermission so as to air out the hall.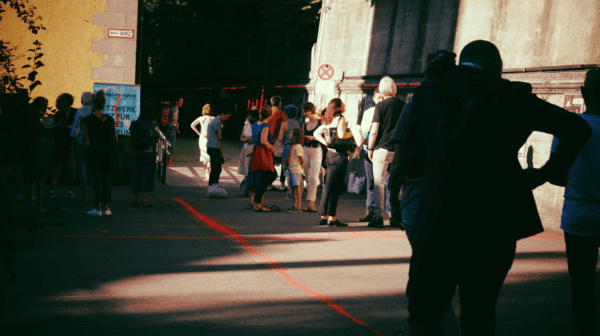 Coloured markings in front of the Muffatwerk indicate social distancing regulations. Photo: Ivana Koschier.
MOVE MORE MORPH IT! BY ANNA KONJETZKY.
Julia.
Dancer Sahra Huby is already sitting on her wooden table in the marked stage area in the middle of the Muffathalle while Simone Schulte-Aladag is still greeting the audience. The spectators sit on two opposite sides of the stage and can observe each other and each other's reactions, since the stage lights remain lit during the performance – a wonderful reference to the immediate responses of the children in front of whom Sahra Huby usually performs the piece. But the performance's magical appeal, which Julia Opitz likewise addresses in her article on MOVE MORE MORPH IT!, is not reserved for the primary-school pupils of Türkenstraße, but becomes equally palpable among the predominantly adult spectators in the Muffathalle. The atmosphere is one of empowerment, saturated by the independent scene's supportive vibe: The artists visit each other, exchange their experiences, and try to contribute their share to the conception of dance pieces for young audiences. Anna Konjetzky's performance shows that dance does not necessarily have to be interactive to work for young audiences. In mutual dependence, Sergej Maingardt's intensive sound system and Huby's precise movements together create a spatial form of perception, a holistic experience. I do NOT pay attention to the precision of the movements and the dancer's technique on the one hand, or the accompanying music on the other hand, but understand them as mutually dependent components that would mean something entirely different if they were separate. Sahra Huby's voice, her breathing, and the sounds she makes are distorted or amplified, thus rendering her movements simultaneously visible and audible. This new code of reception turns the piece into something tangible and accessible to a larger and younger audience.

Applause for MOVE MORE MORPH IT! and dancer Sahra Huby. Photo: Ivana Koschier.
KEYNOTE BY PEGGY OLISLAEGERS.
Julia.
New codes and the modification of reality in everyday spaces are likewise at the heart of Peggy Olislaegers' keynote address—presented by way of video call. Her thoughts and the provocative ideas she expresses are so honest and bluntly phrased that I can't help but engage as well as challenge them while listening to her talk. The impact, influence, and necessity of art, theatre, dance, and performance has always been hotly debated, but it needs to be addressed anew especially NOW, after weeks of home office and social isolation, during which we were unable to meet in person or only in specific constellations. Olislaegers asks us questions like: "What is theatre for you? What is dance? Is it a building? A certain make-believe? An attitude?" Does it necessarily have to be a live event, defined by the interplay of performers and audience?
The Pop Ups of explore dance are designed for classrooms or public space, which they take apart and to which they add more layers: They change the reality of these spaces; they create an additional reality. According to Olislaegers, children ought see bodies that move differently than what they are used to. They ought to see everyday situations in which everything is suddenly turned upside down.
But how do we get there? Will the role of art change to accommodate a future shaped by the pandemic for quite some time to come? At this point Olislaegers has some advice for us, which we unfortunately don't hear, because at this very moment the Skype connection breaks up. On the one hand, this was quite funny, and other hand perhaps not even that bad, because suddenly we all had to ask ourselves how we might be able to change our actual tomorrow. What the Corona-related restrictions have taught us is that we can, indeed, learn to cope with uncomfortable situations. Even the Pop Ups themselves are sometimes uncomfortable! To a certain extent, they extricate dance from its bubble, bring it to schools, and thus manage to touch people who might not consider themselves part of the scene.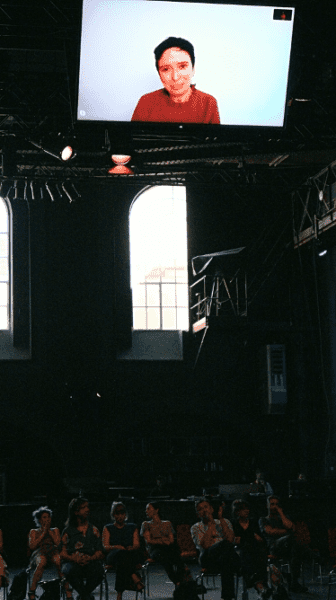 Discussion "at a distance" with Peggy Olislaegers.
Photo: Ivana Koschier.
Many still believe that when it comes to art, comprehension must come first. But us "theatre aunts" subscribe to the belief that one learns so much more if one has the courage to not understand art, or a conversation about art, and to be okay with not understanding. "Get lost in translation!" Art for young people is just as important as art for adults.
The discussion following the keynote might have been more vibrant and perhaps more critical had it been live rather than via video call. Apart from that, however, Olislaegers' online presence is in no way inferior to an analogue live performance.
FLIEGENDE WÖRTER BY CEREN ORAN, WITH GUDRUN PLAICHINGER AND RONI SAGI.
Ivana.
The dance performance Fliegende Wörter had been conceptualised as one of the experiential parts of the Pop Up Feature, but unfortunately couldn't take place live due to Corona-related restrictions. But the artists did not let themselves be deterred by these limitations, and instead found a number of ways to include different impressions in the work of Ceren Oran, which worked wonderfully not only here but also for the Feature as a whole. I accepted the mask requirement and the ventilation breaks without hesitation in exchange for the possibility to finally be able again to participate in an event, and to collect ideas and inspiration. We used the breaks to exchange impressions in smaller groups. Conversations in larger groups were allowed only with masks. Being confined to our respective seating groups allowed me to engage with some new faces. Corona as a limitation – no, thanks.
To recreate the experience of Fliegende Wörter, first a film was shown, follwed by a live in-depth interview between Angelika Endres and Gudrun Plaichinger, musician and performer of the trio in Fliegende Wörter. The film, which can also be seen here, shows the three performers (Ceren Oran, Gudrun Plaichinger, and Roni Sagi), experiencing the transformation of sound in a classroom together with children. A transformation in imagination, in movement, in music, in memory and feelings. In the process, they come up with words they transform together with the children into musical and free scenes, which create a new space in the classroom, one that is quite removed from its normal, everyday life. As Gudrun Plaichinger explains in the interview, they prepare some of the words and the rough framework of the dance performance, but proceed without narration in the main part. Instead, they rely purely on their trust in the children's imagination and their intuitive reactions to what is happening. Here a factor comes into play that makes the dance performance impossible under the current conditions: the closeness to one another. The possibility to feel and see one another, and to react to the direct feelings and thoughts, guided by the children's curiosity. In the interview, Plaichinger gives some examples of the emerging chains of association, and my childlike curiosity for such an experience as described here awakens within me. As Vesna Mlakar similarly writes in her journal report, the dance performance addresses the interactive experience of sound and dance, their inescapable connection with each other, as well as the fact that one finds both continuously in one's own environment, though perhaps focusing too little on one's own perception.
To make this experience accessible to children and young people and to enable them to experience it together seems to me an absolutely worthwhile endeavour, which gains even more value in the context of the classroom and its regular, everyday meanings. I would be very interested in actually experiencing this and finding out what the question mark that is left behind as the open end of the pop up performance for the children would mean to me.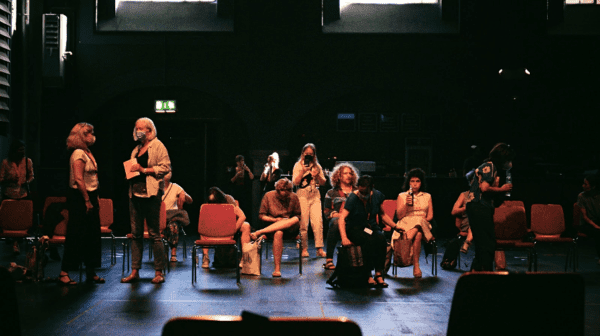 Short break. Standing with mask, sitting without. Photo: Ivana Koschier.
SPINNEN VON DEUFERT&PLISCHKE. AT HOME.
Paulina.
In 2020, broadcasting performances online for people to watch from home has become an integral part of theatre companies around the country. That way, I was able to watch the production spinnen by deufert&plischke from home.
For me, the piece began quietly, without sound. Because my laptop is on strike from time to time, I was unfortunately unable to take part acoustically in the beginning of the night, but instead the images spoke to and jumped at me immediately through the screen. The eight children on stage moved around in small taped rectangles and, one by one, took out different pieces of clothing from a bag, and put them on. Once dressed in their different costumes, they began to dance on their respective taped ice floes. For those of us who, like me, loved playing "dress-up" as children, this is a dream come true. The clothes, wigs, and various other accessories serve to jumpstart the children's imagination. Filled with the joy of playing and moving creatively, each of the children dances in their own world, telling stories with their own bodies. I found particularly striking how "freely" the children responded to and let themselves be carried away by the music – which I could eventually hear as well. No traces of shame. They seem to feel completely at ease. The freedom to move despite social distancing regulations is made possible because the children roll, jump, and jop from ice floe to ice floe. The children handled these external circumstances with impressive ease.
The audience is integrated into this half-hour evening as well. Under each of the chairs, which have been set up on both sides of the dance floor, a piece of paper is pinned with dance instructions for the coming sequence.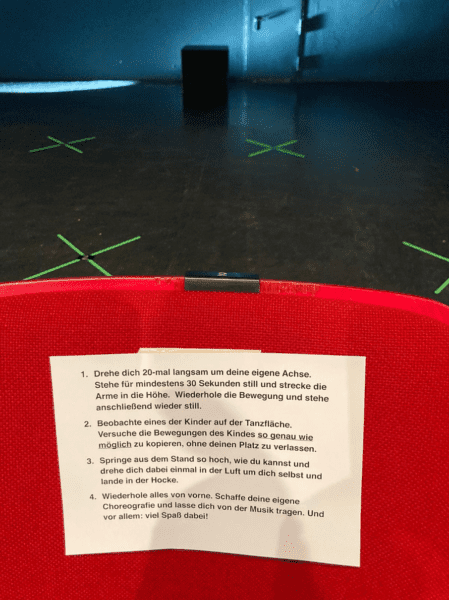 Dance instructions for the audience. Photo: Christine Grosche.
This evolves into a collective experience and creates a community among the audience members. Even through my laptop screen, it looks exciting. At this point, I would have loved to be in the room to share the joy of the young dancers who follow their bodies' every impulse.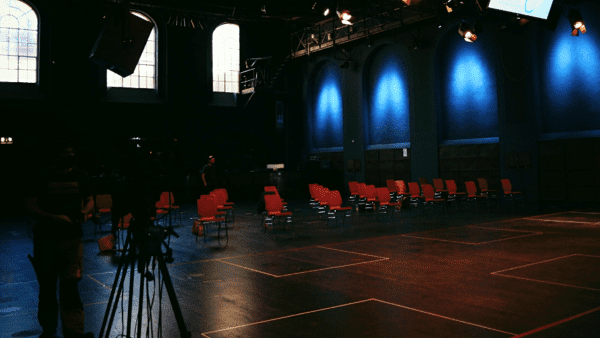 Livestream camera in front of the chairs spaced exactly 1.5 m apart. Photo: Ivana Koschier.
DAY TWO. PRIMARY SCHOOL AT SCHERERPLATZ AND HOCHX.
Theresa.
Friday, July 10, 2020. Second and last day of the Pop Up Feature of explore dance. A day slightly different from the first. Instead of conversations and performances there will be a workshop and a panel discussion. The children dance and the adults talk about dance for young audiences. Two very different formats, which ultimately engage the same topic. How can dance take place in a school context? Classroom piece, what does that actually mean? Answers to these and other questions are "danced into existence" or discussed in conversations at the event.
WORKSHOP SPRINNEN BY DEUFERT&PLISCHKE.
Theresa.
How can children be encouraged to dance? Not everyone can be motivated to do ballet, modern dance, or jazz dance, and nor do they have to. Dance can simply be movement – to express one's feelings. Dance can be another tool for expressing oneself. Another language, another script to learn. There is no right or wrong, no better or worse. All the children who took part in the spinnen workshop were able to express themselves in different ways. Alone or together.
1) Dancing in times of Corona. In times of Corona, it is especially great to find opportunities to be together – to dance together. Even though it's important to pay close attention to the social distancing regulations, it's still possible to dance together. The children move to the same music and watch one other, copying each others' dance sequences – observing the others closely and letting them tell their stories.
2) Discover individuality. The children, all about 9 years old, have their own styles and preferences. While some bring elements from competitive gymnastics, others follow Internet trends. This is all part of a modern-day child's repertoire. But individuality can be encouraged even more: "Move the way you feel right now. How would you dance the first letter of your name? What do you enjoy?" In this moment, nothing else matters. With such exercises, new group dynamics are written. The structures that otherwise prevail in a classroom are dissolved and no longer considered. The children are mindful to the people around them, whether they are best friends or not.
When I was still in school, workshops such as this weren't offered. If parents didn't encourage their children to take dance classes, they hardly had any access to the world of dance. This type of workshop allows children to evolve out of their own selves, without emulating or having to please anyone. Creativity is rewarded and boundaries are set by the children themselves.
"AHA-MOMENTS" DURING THE PANEL DISCUSSION.
Paulina.
At the close of the festival, the previous two days at HochX were recapped and reviewed. In addition, there was also a general report on the experiences made in recent years with regard to "dance for young audiences." The choreographers Moritz Frischkorn, Anna Konjetzky, Alfredo Zinola, as well as Katharina von Korff, administrator in the Munich Department of Culture, and Petra Schmid-Lenz, youth social worker, were on the panel. The discussion was led by the journalist Elisabeth Nehring. Graphic recorder Nicole Funke captured the conversation in intricate pictures.

Graphic Recording at the explore dance Pop Up Feature. Photo: Christine Grosche
This panel discussion did a particularly impressive job in outlining the potential of classroom pieces for rural areas and in comparing the experiences of choreographers, teachers, and representatives of local cultural policy. For someone like me, who has little to no experience with "contemporary dance for young audiences" in general, and with classroom pieces in particular, there were some "aha-moments."
1) Why classrooms rather than assembly halls or gyms. The space where the children dance and are introduced to contemporary dance unfolds its full potential only when the children feel that it is a safe space. Moreover, dance should not be reminiscent of physical education. The concrete spaces that are used are thus not interchangeable, but indicative of the potential of the pieces within this space.
2) Hierarchies and the importance of external teachers. During the discussion, the Pop Up choreographers emphasised the importance of their position as external instructors. This way they can take on a completely different function than, for example, sports teachers or other adults whom the children already know. The children's concept of the role of adults can change significantly as a result. Anna Konjetzky described a situation in which a teacher wanted to introduce the children to her by mentioning their respective "idiosyncrasies." However, these ascriptions are completely irrelevant when working with the artists and choreographers, because they get to know the children in completely new and different ways. This enables and encourages the children to take on different roles than they have done previously in their school careers.
3) Relationship between order and subordination. A question raised time and again in this context was the interplay of fixed structures on the one hand and the children's creative freedom on the other hand in designing the work process. It was extremely important to the artists to emphasise that the free dialogue between instructors and participants always allows for feedback loops and thus for the possibility to think and act in new and unplanned ways. The extremely intimate non-verbal language developed by the young dancers holds enormous potential for breaking up social roles and constellations. In the process, children learn to re-interpret and explore new ways or relating with one another, with adults, and with themselves.