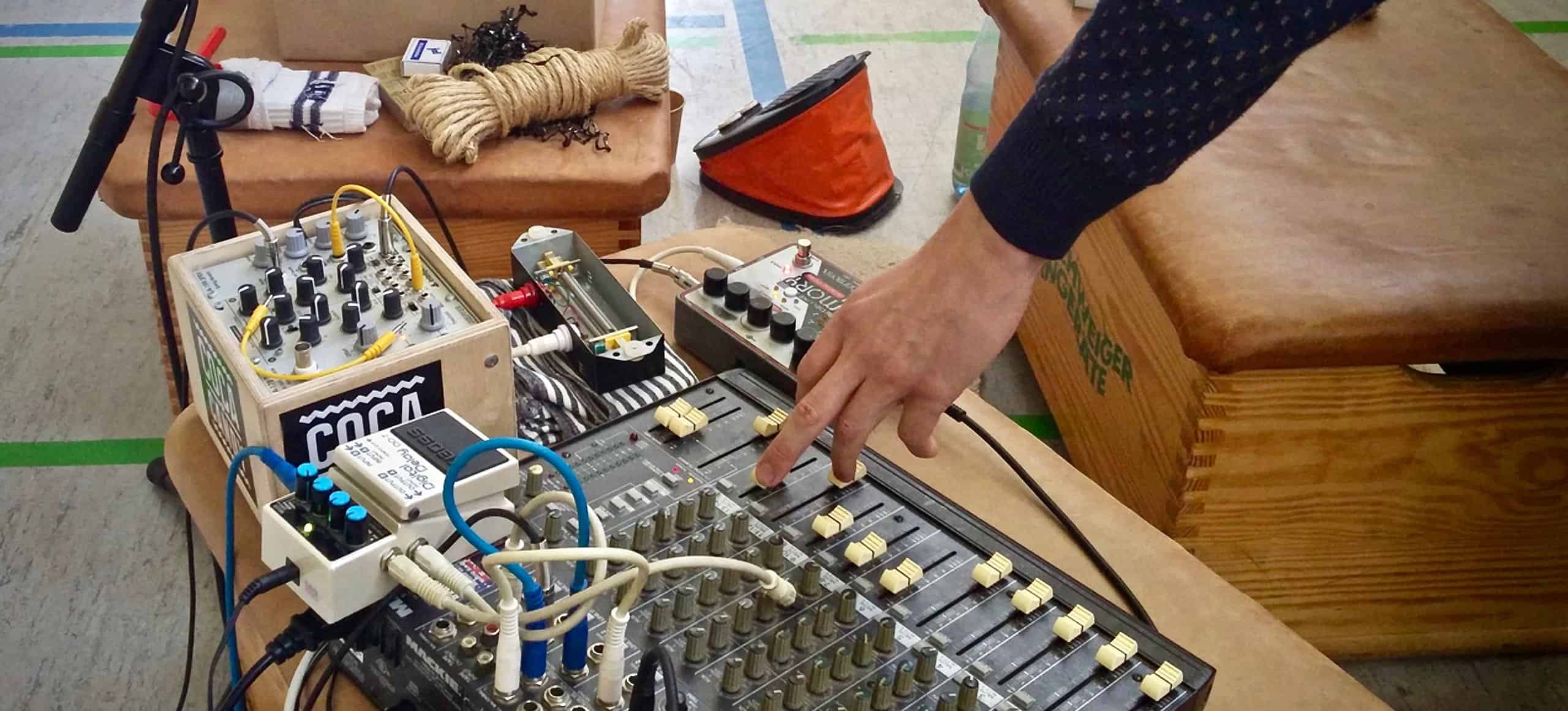 Space and Sound
LUCIA GLASS: DIE CHOREOGRAPHIE DER DINGE UND GERÄUSCHE (A CHOREOGRAPHY OF THINGS AND SOUNDS)
With students that are between 11 and 19 years, old the Hamburg-based choreographer Lucia Glass developed a pop-up piece for explore dance – Tanzpakt Stadt-Land-Bund. An appropriation of space under intense time pressure. Under tough conditions. An attempted rehearsal.
Written by Falk Schreiber
A gym. A small cube falls through the opened door leading to the storage room. Plong. Another one. Plongplong. More and more cubes appear, followed by a performer, and then a second and third one become visible, plongplongplong. Suddenly the gym is no longer a gym but a stage, and arranging the cubes is no longer simply a process of sorting, but becomes a scene. "There is this space," Lucia Glass describes her impression of the large hall, "it is naked, and then we push five boxes into it, and maybe add a little bit of sound, and suddenly something completely different is going on. Suddenly it is something that says: "this is art!"
ABSTRACT AND SPECIFIC
As a choreographer, Glass rehearses the pop-up piece Die Choreographie der Dinge und Geräusche(The Choreography of Things and Sounds) at a local school in Hamburg's suburban district of Blankenese; it is a short piece for which a group of students ranging from 6 to 13-year olds join dancer Jonas Woltemate and musician Clemens Endreß to explore the relation between space and body, between object and sound. The performers playfully figure out how to use the cubes, these small and reduced objects. They form groups that dissolve again, they make use of the space available to them. Glass' glance seeks to instill order upon these explorations until they transform into an actual piece – at the premiere on May 24 (and the pre-showings on May 2nd and 3rd), they need a 30-minute choreography that remains, on the one hand, abstract, but should on the other hand be clearly determined by the cubes: "to work with a particular object – from the beginning – leads to a directly tangible confrontation with it," Glass explains when describing the point of departure of her choreographic work. The use of these objects is then expanded, for instance through the sounds that Endreß produces for the piece. "The cubes are partly assigned certain sounds. In this way, the objects are filled with a meaning that they do not per se contain.  This is how we create a context, a space or a sound that the cube alone could not actually produce."
FOUR WEEKS OF REHEARSAL
Glass choreographs, but the first ideas come from the students. Since January, the artist, who was born in Munich in 1976, has been working with the teenagers. One week dedicated to research together with Woltemate and Endreß is followed by three weeks of intense rehearsals, during which the piece comes into being, based on the research conducted before. Each week, they are in addition taught short physical exercises, 20-25 minutes in the break between classes. During the intense weekend rehearsals, Woltemate performs together with the teenagers, and Glass watches over their results with a critical eye, re-arranging and expanding on it. They are under a lot of time pressure: here they do not work with professional dancers who can completely focus on the piece, but with students who may have other priorities, who for instance currently study for their final exams. And who nevertheless take the time to briefly focus fully on the common artistic work developed here. "We have a total of four weeks, our production is created in a relatively short time span," Glass says about their highly focused method. "This means that, artistically, I have to decide very quickly what works and what doesn't. At the same time, I always have new ideas that I want to try out." At the same time, the students are also asked to spontaneously come up with images that work. For Glass, this situation is both exhausting and fascinating: "It's great because it is also very liberating."
DIFFERENT EXPERIENCES
The age range of the involved students is as diverse as their approach to contemporary dance. 11-year old Ann-Sophia, who is the youngest participant, dances ballet since her early childhood, but knows exactly that what they develop together with Glass is a completely different story. Jule, who is 14 years old, tells us that she took a Hip Hop class in the fifth grade, but has no experience with contemporary dance. And Jasper (19) does not have any experience on stage: "Well, I dance a lot in my spare time, but…" And yet a homogeneous piece emerges out of their different perspectives.
A piece whose appeal also stems from the fact that the participants are continuously asked to contribute their own ideas. "The cool thing about this project is that Lucia and Jonas present ideas, as a sort of rough outline, to steer us into the right direction," Jasper observes. "But each and everyone of us can always say what they would change, what they like, and what we should try out next." Glass agrees with this view on their collaboration: "The students always tell me right away when they think that something does not work. As a choreographer, you cannot expect to translate your visions in the same way as in a more professional context. Someone will most certainly object right away, asking 'why are we doing this now?' 'I don't feel comfortable with it,' 'I'm bored.'" That's exhausting. But also satisfying – because the students grow artistically by being put in a position where they can question things.
HETEROGENEOUS CHARACTERS
The different approaches and differently evaluated experiences constitute a piece whose particular quality lies in the heterogeneity of its participants. The rehearsal phase already indicated that the final choreography would be strongly influenced by their individual characters, and that their great diversity would in the end nevertheless create unity, softly guided by Glass' choreographic point of view, carefully led into one direction by Woltemate's performance.
The students form a unit, a ball of bodies. Out of it emerges an arm making a soft movement: the first student leaves the ball, a second one follows, a cube is pushed across the floor, plongplongplong. And suddenly a new scene develops: "suddenly this thing begins to speak and say: art."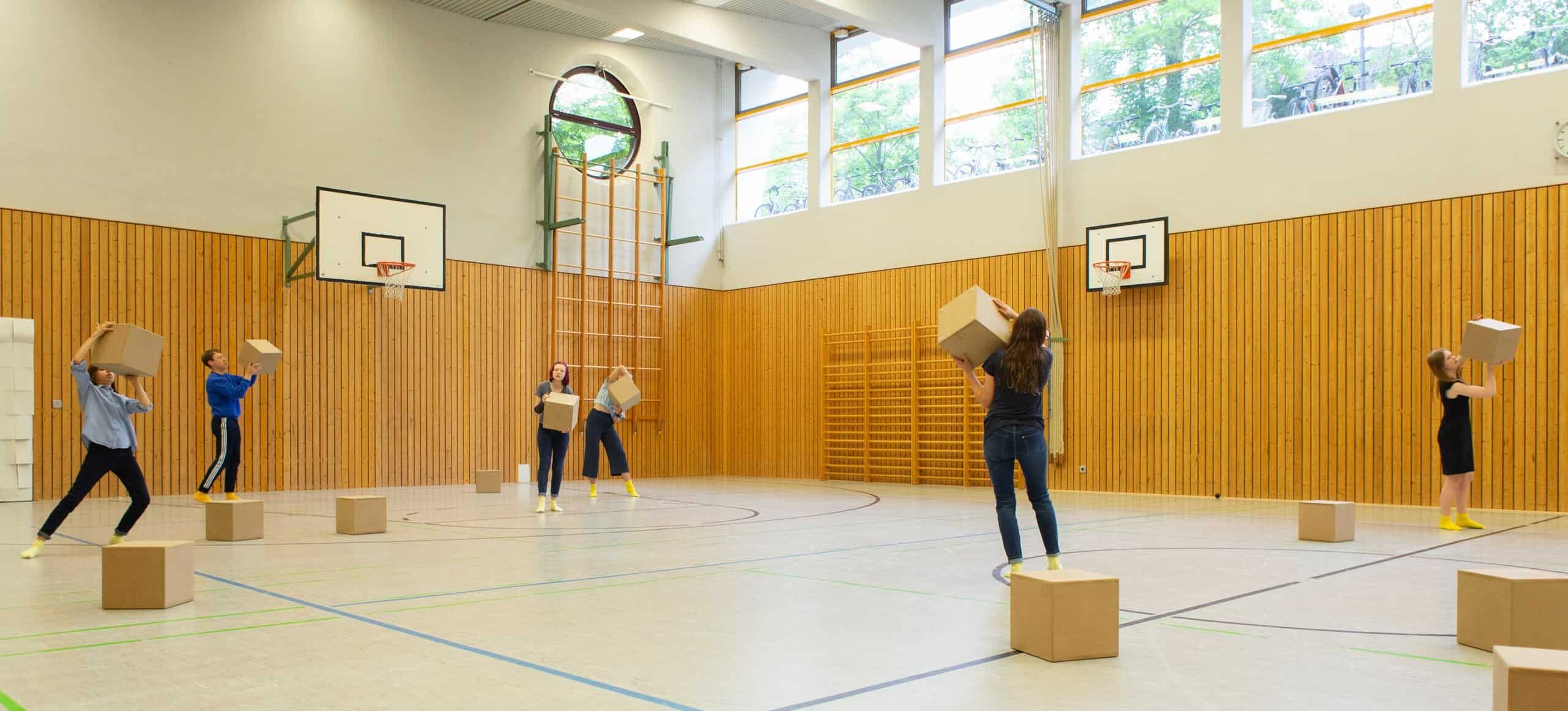 WHEN EVERYTHING GROWS QUIET, THE HALL BEGINS TO SOUND.
LUCIA GLASS: DIE CHOREOGRAPHIE DER DINGE UND GERÄUSCHE (THE CHOREOGRAPHY OF THINGS AND SOUNDS) PART 2
Lucia Glass's pop-up-piece, developed as part of explore dance – Tanzpakt Stadt-Land-Bund, moves students ranging from 11 to 19 years of age beyond the limits of non-professional dance. Yet the grand surprise of the piece is something else: simple wooden boxes.
Written by Falk Schreiber
Things are alive. Mid-size plywood cubes move across the room and performers hang onto them, following their movements, creating communities, and becoming disentangled again. The performers do not move, they are moved: their movements are motivated by the mysterious cubes.
That's of course not true. Of course Lucia Glass did not bring wooden boxes to life for her pop-up piece Die Choreographie der Dinge und Geräusche (the choreography of things and sounds). Of course the Hamburg-based artist choreographed human movement, and human beings pick up and carry, push and pull the boxes across the room. And yet the scenes that are created here imply that initially the performer picks up her box, pushes it through the air – until the object suddenly develops a force of its own so that the arm no longer pushes the cube but the cube moves on its own, it pulls the arm along with it, and the arm pulls the body attached to it.
IN THE GYM
Die Choreographie der Dinge und Geräusche (the choreography of things and sounds) was created as a pop-up piece at a local school in Hamburg-Blankenese, which means: the performance space is a bleak gym (the piece could therefore easily be performed at other schools, too, if they are interested). Students ranging from 6 to 13 years perform alongside professional dancer Jonas Woltemate and musician Clemens Endreß who adds a suggestive layer of sound to the performance: electronic crackling, analog grinding, a deep humming that is differentiated into a careful beat. And when everything grows quiet, the hall begins to sound: squeaking linoleum floors, the clatter of feet, heavy breathing. A gym hall, a performance, music, everything is one movement.
ON THE MAYPOLE
Glass largely rejects concrete images. At times, the cubes are used to build towers, at others these towers are circled, in one short passage they are even surrounded in a traditional dance. It is at that moment that the image of a village community gathering around the maypole is conjured up. Yet as suddenly as it appeared, the image dissolves again, the stage architecture falls apart (stacked wooden cubes are the ideal objects for this kind of disintegration), and the figures' cohesion also dissolves. In their place, geometrical forms begin to appear, strictly calculated patterns of movement, a dancer crumbles up a sheet of paper, another withdraws into the last corner of the room, is circled by the others and brought back into a collective that only moments later dissolves again. Tennis balls fall to the ground, a cautious rhythm emerges and disappears again, bodies stand completely motionless.
IN THE UNCERTAIN
At the final rehearsal, three days before the premiere on May 24, not everything in the piece has been precisely timed and thought through: some movement sequences could still use a little more accuracy. It is also still somewhat unclear whether it is a good idea to leave the abstract level right before the end to create a concrete image. At the same time, the choreographer has to be careful that not everything is worked out in every detail, that open space remains, that a secret in the dance is not resolved – the project's quality also lies in its uncertainty, in a movement whose origin cannot easily be decoded, but rather remains movement that can be read as dance or a physical law whose background one can guess but does not fully comprehend. What remains solely unquestioned is the fact that Die Choreographie der Dinge und Geräusche (the choreography of things and sounds) is a powerfully artistic composition. And beyond its existence as this artistic composition, the production proves something else: a presence of dance that transgresses far beyond the level of non-professional dance. During the months of rehearsals Glass succeeded in turning the students, whose dance skills and age range vary widely, into an ensemble that is dedicated to dance and at the same time acknowledges the individual dancers' personalities. Die Choreographie der Dinge und Geräusche (the choreography of things and sounds) is a piece that moves beyond the performative work with young non-professionals: it is art. It is art that no longer raises questions who is a trained artist and who is merely a student with a soft spot for dance.