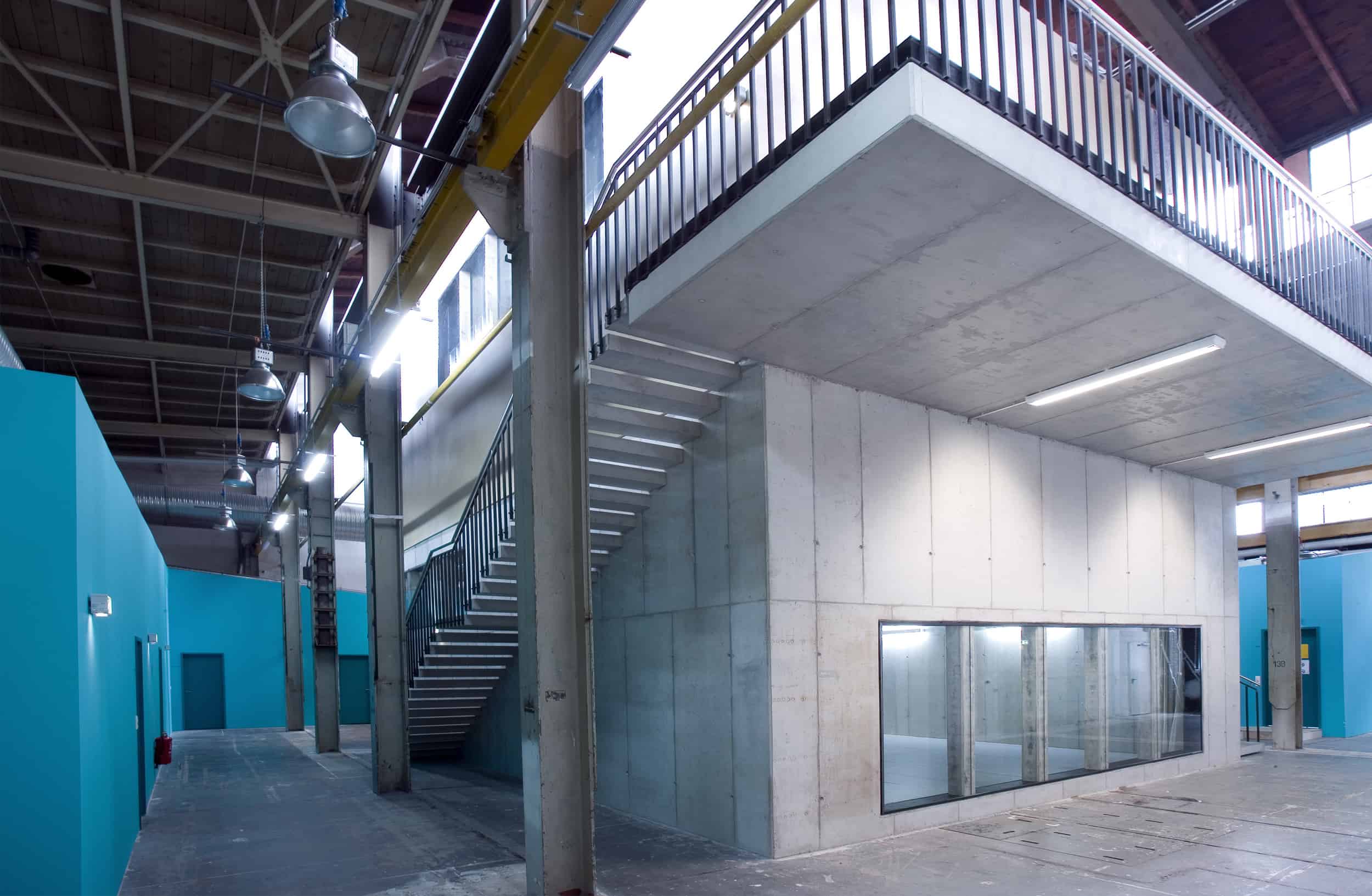 K3 – Zentrum für Choreographie | Tanzplan Hamburg at Kampnagel is a competence centre for expertise in the field contemporary dance and choreography, artistic research, and dance outreach.
K3 was established in 2006/2007 as part of a five-year funding programme by Tanzplan Deutschland (2006 to 2010) – an initiative of the German Federal Cultural Foundation. In 2007, the k3 exhibition hall at Kampnagel was renovated with funds provided by the Hamburg Cultural Authority. The resulting three dance studios, as well as the adjacent studio stage P1, now form the basis of K3 | Tanzplan Hamburg. K3 is an artistically independent institution operating within the organisational structure of Kampnagel.
K3 is funded by the City of Hamburg since 2011 and is one of the few centres for choreography and dance in the German-speaking regions of Europe. With its expertise and strong network of ties to the local, national and international dance scene, K3 significantly contributes to increasing the visibility of dance and strengthening the standing of this art form.
A major focus of work at K3 is developing and offering various forms of residencies and artistic formats of working that combine artistic research, production, and presentation. Promoting and supporting choreographers and dance professionals in the early stages of their career is a main priority.
In addition to providing information and advice, the centre offers dance makers and other professionals in this field regular courses and professional dance training, workshops as well as further learning formats.
K3's outreach and education programmes aim towards fostering appreciation of dance in people of all ages. Projects and courses – such as our cooperations with the Volkshochschule (adult education centre) Hamburg and the series Moving Heads – Talks on Choreography – aim towards building connections between dance practice and discourse. An important part of the work of K3 is to promote cultural appreciation among children and teenagers through a variety of collaborative projects and partnerships with schools and projects by and with teenagers, such as the K3 Youth Club.
The three pillars of K3's work – residence, classes and training, and dance outreach – interrelate in terms of content in order to make the borders between practice and theory as well as artistic work and dance outreach permeable. They are simultaneously a conceptual basis for multi-year cooperative projects with academic and artistic institutions in local, national and international contexts.
Since its foundation, K3 has been playing an essential role as a place for artistic exchange and networking in developing a dynamic and networked dance scene in Hamburg while promoting its national and international networks.
Employees for explore dance:
KERSTIN EVERT
Artistic direction K3
UTA MEYER (from season 2019/20)
ANN-KATHRIN REIMERS (season 2018/19)
Project management Hamburg
CHARLOTTE PFINGSTEN
Project assistance Hamburg
+49 [0] 40 270 949 45
tanzplan@kampnagel.de